North Myrtle Beach Chamber Hosted July CNC Meeting
Thank you to Shafran, George and the North Myrtle Beach Chamber and CVB for hosting us this month. They have a beautiful facility and breakfast was fantastic! We had our Chair Elections and an update from the North Myrtle Beach Chamber. George and Shafran did a great job discussing all of the new initiatives and programs they are implementing for North Myrtle Beach. It's always great to get these updates as we know how hard they work on promoting the area! Thank you for keeping us up to date! And Congratulations to candidates who won today: Chairperson - Dawn Formo, Vice Chairperson - Amanda Mateo, Secretary - Cherie White.
Meeting Prize Raffle - Bring your cash and win a prize! Tickets are $1 each and all proceeds will benefit the Scholarship Endowment. Charles Janosick with Proforma has graciously offered to donate an amazing cooler gift basket each month for our raffle. Don't miss out . . . bring your cash!


CNC Member FAM - May 9th, 2017
CNC FAM took place May 9th and was an AMAZING day! Itinierary included Kitchen Table, Martin's Restaurant, Westgate Resorts, Stillhouse BBQ/Palmetto Moonshine, Ripley's Aquarium and Market Common. We will load and drop off at Carolina Opry. HUGE thank you to all of the host for doing a fantastic job...couldn't have been better! And thank you to everyone who joined in on the fun and spent the day supporting the hosts.
Check out pictures from the FAM on our Picture Page!
CNC Social/Fundraiser - Gordo's & The Chemist Culinary Experience - March 2017
CNC and Eastern Carolina Homelessness Organization Clothes Drive - March 2017
First Responders Appreciation Visit - Feb 2017

The very first visit for the First Responders Appreciation was a success! What a great group and they were so thankful for the recognition and goodies! This is what they put on their facebook...Good Tuesday morning, the Horry County Sheriff's Office would like to thank Dawn with the Chamber of Commerce, Robin with Second Wind Tours and Courtney with Ripleys Aquarium for bringing the chocolate chip cookies, brownies and the beautiful bags full of squash in appreciation of the Sheriff's Office. We truly appreciate your thoughtfulness. Also pictured, left to right, Cpl. Hyman, Lt. Johnson, Sheriff Thompson, Deputy Brosky, Chief Fox, Director Owens and Capt. Enzor.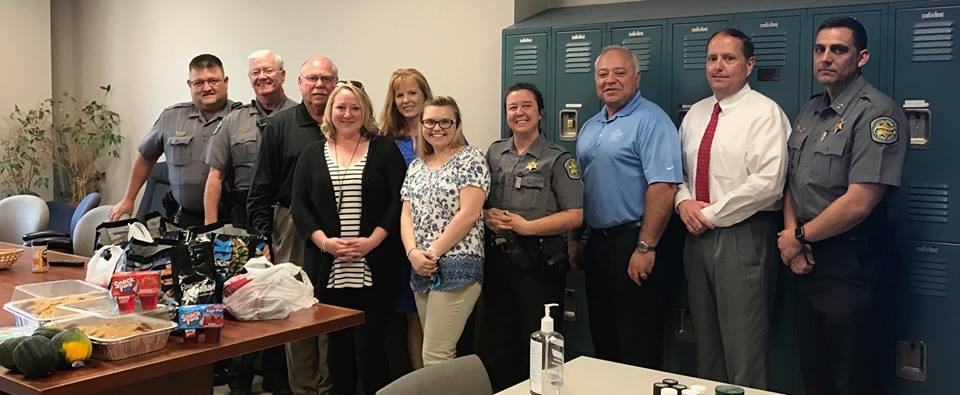 Holiday FantaSea 2016 - November 15th at Alabama Theatre
Social/Fundraiser

The Fundraiser/Social on September 28th at Duplin Winery was fantastic. Special thanks to Jonathan and Morgan! We had a great wine tasting, complimentary glass to take home, homemade chips & dip as well as live music on the patio. It was a fantastic evening! We raised over $400 to put towards the scholarship fund!


Community Give Back - Pancake Supper

Pancake Supper - Thank you to everyone who volunteered their time to help us with the first Pancake Supper as we showed the local Law Enforcement and Emergency Services Personnel our appreciate and gratitude for everything they do. And a special Thank You to Stacey and the Southern House of Pancakes!

Membership

Please continue to seek out and encourage others to join CNC. We welcome guests at the Membership Meetings!
Contact: Sandy Haines
Holiday FantaSea at TBA - ABA Top 100 Event
2017 Date - Tue, Nov 7th and 14th
Start selling the Holiday FantaSea now - It is a great added value for all groups!
See details on the Holiday FantaSea page - 2017 Flyer coming soon
Contact: Sandy Haines , Dawn Formo & Sara Roland
Sales Blitz

The 2016 Sales Blitz to PA and OH was very successful. Over 50 companies were visited and there were many existing and prospective guests that we were able to create and build relationships with. A complete list of appointments and contacts will be made available very soon.
Contact: Sara Roland or Margaret Wallace

CNC Pet Food Drive - Grand Strand Humane Society - May Meeting
Community Giveback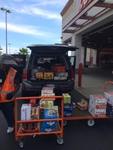 CNC is proud to support SC and our flood victims! In partnership with CostCo and The Palace Theatre we donated over $1000 in food items for the victims. The donations are slated to go to CAP (Churches Assisting People) in Conway and Georgetown since that is the impact area. Depending on how much is collected, they will also donate to other food banks/pantries that are in need.
---
Scholarship Endowment
Donate Today
Donations accepted online through PayPal - We appreciate your support in lighting the way for future hospitality leaders!
Board of Directors Update

The BOD meets the first Tuesday of each month. Your membership category representative speaks for you. If you have questions or concerns please contact your representative and let them know.
The next BOD meeting will be held on September 5, 2017.
BOD Meeting on August 1, 2017:
Meeting Minutes for July approved
Treasurer Report for July discussed and approved
CNC Charity Renewal has been renewed and documents received
FantaSea Discussion - Elvis, GTS, Ruckus, Sharky, CFHS and Medieval Knights confirmed. Timelines have been set and decorations ordered/received. Donna will send out volunteer and basket requests by September. Dawn will arrange a time closer to November that the board can go look at the church and formulate an arrival/departure plan. Katelyn Guild has agreed to take pictures for membership trade plus $200. Numbers at the moment are 245 for the first date and 530 for the second date. Bobbie will send out an email to accommodation members encouraging them to book. FantaSea 2018 dates set: Nov 6th and 13th. Welcome bags will include water, mints, popcorn and nabs. Margaret will check on popcorn from the Opry.
Gift Extravaganza has been distributed and is being promoted. 53 tickets have been sold so far. Dawn will send out a reminder and flier every few weeks to hopefully generate some interest. Dawn will encourage every member to purchase or sell at least 15 tickets each in order to cover costs and raise a nice amount for the Scholarship Fund. Dawn will offer a prize for who sells the most/buys the most tickets...maybe offer them several free tickets for the drawing.
Sales Blitz - 12 sign ups and locations set. Teams have their assignments and are working on routes.
December meeting changed to Dec 14th so it is not so close to Christmas. Dawn will update Gift Extravaganza fliers.
Programs set for the rest of the year. Amanda will follow up to confirm locations and speakers.